That's my soda! No, it's mine! All mine!
Posted on 06.13.2005 at 05:13 pm
DailyCrushMood:
thirsty
Ooh, boy, these are super-clever!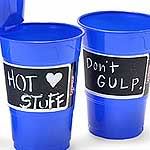 Etch It Cups
Just peel off the paper to reveal a scratchable black surface, and let your guests identify their drinks and design their own cups. Now I have a good excuse to have people over for a yummy barbeque, hopefully
soon!
:)